Alumni netwerk
Wij zijn erg trots op onze Rietveld alumni en daarom zouden we graag willen weten hoe het alle alumni na het afstuderen is vergaan. We willen onze alumni dan ook van harte uitnodigen om lid te worden van ons Alumni netwerk: The Rietveld Society.
We zien ernaar uit om al onze alumni te mogen verwelkomen bij The Rietveld Society. Als nieuw lid ontvang je de speciale Rietveld Society Knoop (zie afbeelding), naar een exclusief ontwerp van Nina Paim en Remy Alban Valton, studenten grafisch ontwerp aan de Rietveld Academie.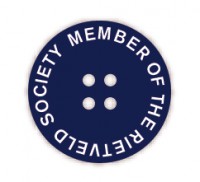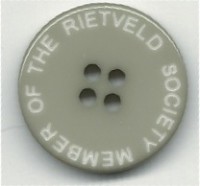 Alumni initiatieven
Diverse alumni beginnen een kunstenaarsinitiatief of platform. Hieronder volgt een lijstje met een aantal van deze initiatieven. Zie de websites voor verdere informatie en het actuele programma.
Platform Platvorm door Bas van Wieringen en Anna Zwartjes
New Sculpture Department Amsterdam, door Kees Boevé and Lorenzo Quintanilla
New Shelter Plan en One Thousand Books Kopenhagen, met o.a. Sara Glahn
kunstenaarsinitiatief beyoncé Amsterdam, opgericht door Lot Meijers, Elke Baggen, Lukas Hoffmann en Susan Kooi
BERM Amsterdam, door Lotte Nijhof en Marieke Zwart
Polly's Picture Show Amsterdam, door Anne Huijnen, Isabelle Wenzel, Suzanne Posthumus en Anna de Jong
deSERVICEGARAGE Amsterdam, met o.a. Daniel Hofstede, Judith Leysner, Sachi Miyachi, Benjamin Roth, Ian de Ruiter, Arik Visser
Plan B Amsterdam, door Tarja Szaraniec en Tomas Adolfs
Eddie the Eagle Museum Amsterdam, door Arthur van Beek, Sieto Noordhoorn en Aukje Dekker
Red Light Radio Amsterdam, co-founder Orpheu de Jong
F.L.O.A.T. Amsterdam, co-founder Ginta Vasermane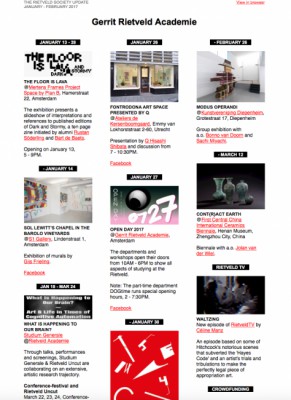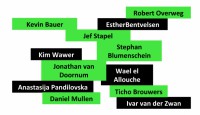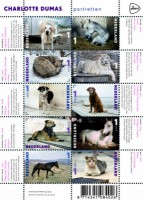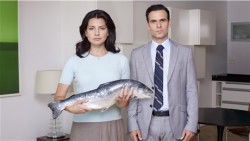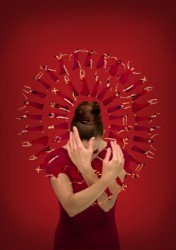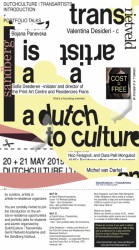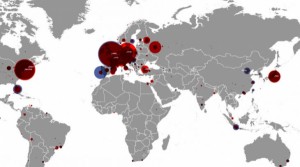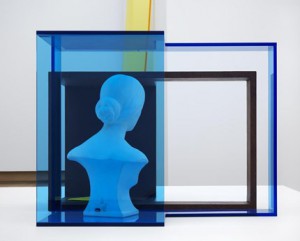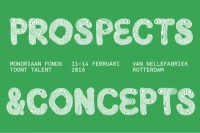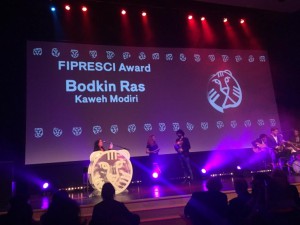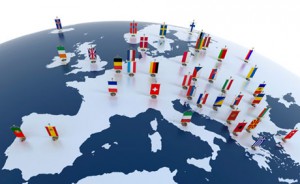 The Rietveld Society
The Rietveld Society werkt aan een platform om de communicatie en uitwisselingsmogelijkheden tussen alle leden van het internationale Alumninetwerk te verbeteren. Via The Rietveld Society kunnen bijvoorbeeld (gast)docenten voor de academie worden geworven, interessante groepsprojecten en -tentoonstellingen worden georganiseerd in binnen- en buitenland, en andere samenwerkingsvormen en initiatieven worden opgezet.
Onderzoek
We hopen via ons alumninetwerk meer te weten te komen over de loopbaanontwikkeling van de Rietveld alumni binnen en buiten de wereld van kunst en vormgeving. Samen met de Universiteit van Amsterdam hebben we middels een vragenlijst informatie verzameld over de specifieke loopbaan- en artistieke ontwikkeling van de Rietveld alumni. Met deze kennis over de carrières van haar alumni kan de Rietveld Academie haar programma zo goed mogelijk blijven afstemmen op het voortdurend veranderende culturele klimaat. Gezien het actuele debat in Nederland is dat belangrijker dan ooit.

Facts are Facts: Alumni Videos gebaseerd op de resultaten van het onderzoek. Ontworpen door Moniker & Adina Renner.