Graduation 2011
Each year students from the final year present themselves to the public during Rietvelds Graduation Show.
Our academy is transformed in one big exposition space and shows works of students from Textile(TxT), Fashion, Photography, Image & Language, Glass, Ceramics, Graphic Design, Architectural Design, Fine Arts, Interaction Design-Unstable Media, VAV and designLAB.
In 2011 approximately 200 students graduated from several departments.
Online catalogue 2011
The work of the endexam students can be seen at:
Final Works 2011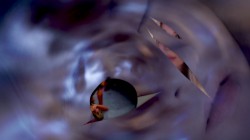 Rick van de Dood graduated by exhibiting a flash of bright light in a classroom of the Gerrit Rietveld Academy.

The title of the work was
A Sudden Flash of Enlightenment.

It was made in 2015.

Its light will travel forever.

Opening
On July 6th at 4 pm Professor. Dr. Robbert Dijkgraaf, President of the KNAW, University Professor, as well as former Rietveld student officially opened the exhibition.
Online Catalogues
Every year the Rietveld Academie shows an overview of the endexam work in the so called 'Online Catalogue'.
During the Graduation Show this catalogue will be filled up with endexam work. Students of the department Photography are asked to photographe the work during the exposition. The endexam students also have the possiblity to put work online themselve.
Design 2011
Tanguy Wermelinger and Martino Morandi, both students of Graphic Design, designed all the posters by using an 'interactive' Postermachine. Students can bring up there images and the machine creates big graduation posters of it. They also developped a video linking system, where students can upload a video, which inspired them. These are the little red squares on the hompage
Gra Awards
On Saturday July 9th the winners of the GRA Awards were made public. An external jury announced which students are the most remarkable ones of 2011.
The jury:    
Maria Barnas    
Jelle Bouwhuis    
Aynouk Tan    
Aad Krol    



the winners are:
For fine arts: Artun Arasli, Image & Writing
Nominees 2011:
Fine Arts:
Artun Arasli, Image & Writing
Brian Coutinho, Ceramics
Lotte Reimann, Photography
Design:
Ivo Clason, Architectural Design
Mila Lanfermeijer, TXT (Textile)
Marjolein Hessels, Dogtime ID-UM
Thesis:
Michiel Hilbrink, Dogtime Fine Arts
Luis Rodil-Fernández, Dogtime Fine Arts
Daniel de Zeeuw, Dogtime ID-UM
Felicia Broberg Von Zweigbergk, Fine Arts
Download here:
Jury report Gra Awards Fine Arts and Design
Jury report Thesis
GRACE
The new magazine GRACE was presented during the Graduation Show. GRACE is an unique cooperation from Rietveld students with five printers from Amsterdam.
About GRACE in Blend: Unfolded 1 and Unfolded 2