Toelating
Om aan de Rietveld Academie te studeren heb je minimaal een afgeronde HAVO of MBO4-opleiding, of een gelijkwaardig diploma (EQF niveau 4) nodig. Daarnaast moet je over voldoende artistieke aanleg beschikken. Tijdens de toelatingsprocedure onderzoekt de Rietveld Academie of je geschikt bent voor het onderwijs.
Aanmelding bachelor studiejaar 2017-2018
Kies in het menu links voor NEDERLANDSE of INTERNATIONALE STUDENTEN en lees daar alles over onze toelatingsprocedure voor 2017-2018, die in twee verschillende rondes verloopt (beoordeling portfolio tijdens het toelatingsspreekuur, en het toelatingsexamen).
NOU EN? (pdf)
Studeren aan de
Gerrit Rietveld Academie
met een functiebeperking
of chronische ziekte
Orientatiemogelijkheden
Er zijn diverse mogelijkheden om je te oriënteren of voor te bereiden op een studie aan de Rietveld Academie. Je kunt bijvoorbeeld komen naar:
Of je kunt ook een van onze voortrajecten volgen: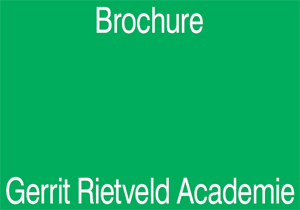 Meet our students
Onderstaand kun je video's bekijken, waarin studenten van enkele afdelingen een dag op de Rietveld Academie beschrijven