Oriëntatiejaar
Het Oriëntatiejaar is een voorbereidend studietraject. Het laat je kennis maken met de werkwijze van de Gerrit Rietveld Academie en stelt je in staat inzicht te verwerven in je mogelijkheden zodat je een gefundeerde keuze kunt maken voor een studie aan een kunstacademie. In februari worden spreekuurgesprekken gevoerd over de uiteindelijke studiekeuze van de O-jaar cursist. Als je het Oriëntatiejaar goed hebt afgerond kun je deelnemen aan het toelatingsexamen van de Rietveld Academie.
25 zaterdagmiddagen van 12.00u – 17.00u.    
1ste lesmiddag: 23 september 2017 (onder voorbehoud). 
Cursusgeld 2017: € 888,-.  

Toelatingsgesprekken voor 2017-2018:    
- 7 & 10 juni 2017.    
DEADLINE voor aanmelding: 1 mei 2017!


Je volgt lesblokken die elk een eigen specifiek gebied van Beeldende Kunst en Vormgeving beslaan; zoals Tekenen/Schilderen, Mixed Meda, Ontwerp en Sculptuur. Ieder lesblok is gericht op het ontwikkelen van je eigen fascinaties binnen een opdracht. Behalve dat je op zaterdagmiddag op de academie aanwezig moet zijn, werk je thuis ongeveer 1 dagdeel per week aan opdrachten.
Je krijgt les van kunstenaars en ontwerpers die je stimuleren, coachen en adviseren tijdens het werkproces. Daarnaast heb je de mogelijkheid een aantal workshops te volgen en ga je op een excursie. Ook kun je deelnemen aan een theorieprogramma van de Rietveld Academie, verzorgd door het Studium Generale. Voor meer informatie zie Studium Generale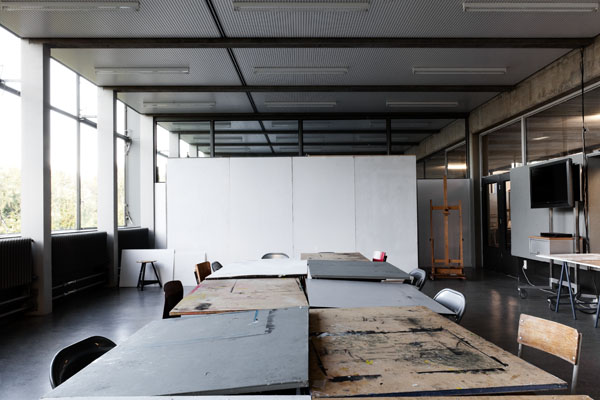 Aan de hand van de opdrachten, onderzoek en werkbesprekingen, leer je reflecteren op je werk – maar ook op de beeldende kunst en het ontwerpen in het algemeen. Het is een cursus bedoeld om erachter te komen of de kunst en vormgeving iets voor je is, en voor mensen die serieus en gemotiveerd bezig zijn met beeldende middelen maar nog niet voldoende materiaal voor een portfolio hebben. Het Oriëntatiejaar stelt je ook in de gelegenheid je portfolio uit te breiden om vervolgens toelating aan de Rietveld Academie, of een andere kunstvakopleiding te doen. Bovendien is er in februari de mogelijkheid deel te nemen aan het "interne toelatingsspreekuur" voor oriëntatiejaarcursisten; dan wordt beoordeeld of je geschikt bent om deel te nemen aan het toelatingsexamen op de Gerrit Rietveld Academie. Het Oriëntatiejaar start op een zaterdag eind september en loopt tot eind april. Tijdens de schoolvakanties is er geen les.
Aan het Oriëntatiejaar gaat een selectie vooraf aan de hand van meegebracht werk, en de uitwerking van een thuisopdracht, en een gesprek met een docent. Je motivatie speelt daarbij een belangrijke rol. Het werk dat je meeneemt kan bestaan uit schetsen, krabbels, foto's, video's, ruimtelijk werk. Kortom alles wat iets laat zien over je beeldend vermogen. De minimale leeftijd om mee te doen aan het Oriëntatiejaar is 16 jaar.
Studenten
Aki Kaneda
Alessandra Aldini
Amit Zilberberg
Annelotte Weert
Aram Reijnders
Benjamin van Zanten
Berendine Venemans
Billy Jansen
Blanka Ašcic
Brigitte Rotteveel
Camiel Muiser
Carla Freiwald
Claire Wagner
Corine Smink
Dorien van Alphen
Ester Flinkenflögel
Esther Bleesing
Eva Hoeksma
Evita Kwant
Floor Kuijmans
Flore Hoeneveld
Irene de Gelder
Jeroen Kooistra
Johanna Beuningen
Jordi de Vetten
Justine Wesselo
Karin van der Zwan
Katharina van den Brink
Kilia Robustella
Laura Beunk
Le
Lin Kok
Linda Valenta
Lise Teeuw
Lizzy Jongedijk
Lo
Luka Boerrigter
Madelon ter Borg
Mandy Hakker
Marc Mol
Margarita Osipova
Marit Schilling
Marja Lagrand
Marlia de Jonge
Martijntje van Schooten
Max Onink
Moa Johansson Drugge
Monika Nowak
Morgan Ton
Myrthe Veer
Neline Kramer
Niels Oosterbaan
Niki Kleverlaan
Nina Hazenoot
Nine Repelaer van Driel
Olivia Jarvis
Peggy Bussink
Quentin Dehaye
Quincy Inchauste Callahuara
Raven Wesenhagen
Rebecca van Caem
Ren
Roos Dessing
Rosanna Gaddoni
Roselyn Flach
Saba Ahmadi Sartakhti
Sander Rodenhuis
Silver van Sprundel
Sophia Favela
Sterre Troquay
Suzanne de Jager
Tanja van Dam
Xanthe Schepers
Yse Tuynman
Yuliia Petryshena
Zoë Greenaway