OPEN DAY 27 januari 2017
10.00 - 18.00 uur


Tijdens de jaarlijkse OPEN DAY op vrijdag 27 januari openen alle afdelingen en workshops hun deuren van 10.00 tot 18.00 zodat je alle aspecten van studeren aan de Rietveld kunt bekijken.

We nodigen je uit om rond te lopen en de docenten en studenten vagen te stellen en de sfeer van de academie te ervaren. Tijdens deze dag kun je ontdekken wat er mogelijk is nadat je succesvol het Basisjaar hebt afgerond. Je kunt dan ook het Basisjaar, het Vooropleidingsjaar en het Oriëntatiejaar bezoeken.

Onze deeltijd opleiding DOGtime heeft afwijkende openingstijden: 14.00 - 19.30 uur.

Je hoeft je voor deze dag niet aan te melden.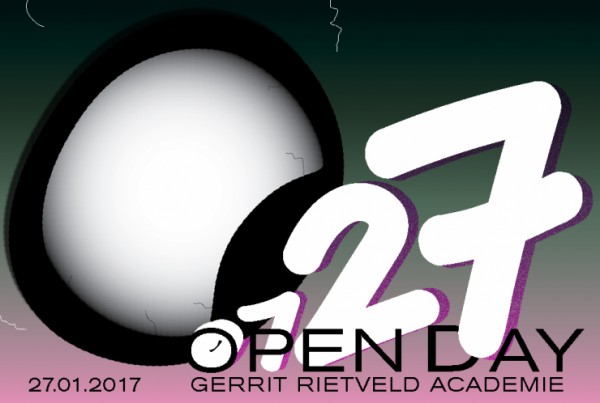 Hoe kom je hier?
Adres
Gerrit Rietveld Academie,
Frederik Roeskestraat 96 kaart
Met openbaar vervoer vanaf Centraal Station Amsterdam:
Tram 16, halte IJsbaanpad Bus 170, 172 halte IJsbaanpad Metro 50, halte Amstelveenseweg Of kijk op www.9292ov.nl
Met de auto
Wegens werkzaamheden zijn er zeer beperkte parkeermogelijkheden rond de academie en het is dus aan te raden met het openbaar vervoer te komen. Op de ring Amsterdam, afslag 108 (Amstelveen). Aan het einde van de afslag naar rechts. Na het viaduct eerste straat rechts. Of kijk op www.routenet.nl.