End exam 2010
Each year students from the final year present themselves to the public during Rietvelds Graduation Show. This year approximately 190 students graduated from several departments.
Our academy was transformed in one big exposition space and will showed works of students from Textile, Fashion, Photography, Image & Language, Glass, Ceramics, Graphic Design, Architectural Design, Fine Arts, Interaction Design-Unstable Media, VAV and designLAB.
The exposition took place July 7th - July 11th 2010.
This all took place in both Rietveld's buildings in the Fred. Roeskestaat in Amsterdam and in the greenhouses built at the backside of our building.
ONLINE CATALOGUE
The work of the endexam students can be seen at: finalworks/2010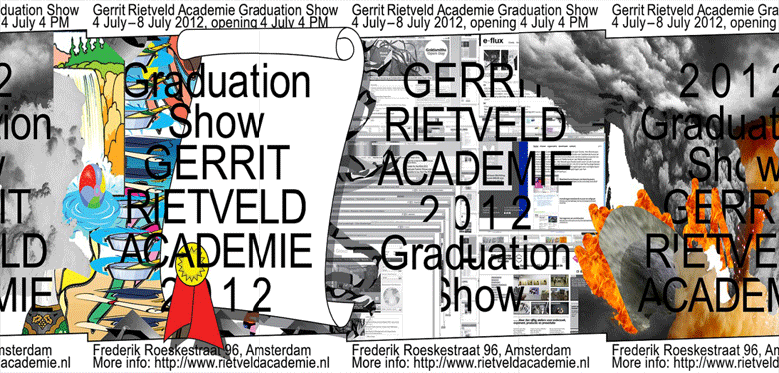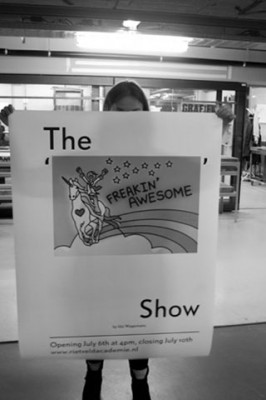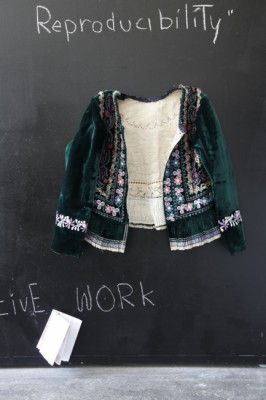 Online catalogues
Every year the Rietveld Academie shows an overview of the endexam work in the so called 'Online Catalogue'.
Students of the department Photography are asked to photographe the work during the exposition and put online after the exposition. This year the endexam students also have the possiblity to put work online themselve.
Online catalogues of
our previous graduation:
GRA Awards
Each year the Rietveld Academie hands out awards for the Best Graduates of the year. Prices will be awarded in the categories Autonomous Fine Arts and Design. The price is an amount of 1500 euro's with which we want to stimulate the winners in setting up their own practice.
Our jury this year was:
Gianni Cito – Dok Architecten 
– member of the jury for the category of Design

Helen van Ruiten – Galerie Binnen 
– member of the jury for the category of Design

Fons Welters – Galerie Welters 
– member of the jury for the category of Fine Arts

Maria Hlavajova – Stichting BAK 
– member of the jury for the category of Fine Arts



This year there is also a price for the best thesis.
On Saturday July 10th at 4pm Ben Zegers, Dean Bachelors, announced in the canteen of the Gerrit Rietveld Academie who won the GRA AWARDS 2010.
And the winners are….
Autonomous Arts
Sara Barbosa De Campos, Fine Arts
Applied Arts
Passama Sanpatchayapong, Jewellery
Thesis
Charlotte ten Raa, TXT (Textile), will graduate in December
Nominated were ...
Autonomous Arts
1) Ruta Butkuté, Ceramics
2) Sara Barbosa De Campos, Fine Arts
3) Suzanne Posthumus, Photography
4) Isfrid Angard Siljehaug, Fine Arts
5) Asli Toy, VAV
Applied Arts
1) Marius Lindgard, Graphic Design
2) Kristin Maurer, Architectural Design
3) Mi-ah Roediger, Jewellery
4) Passama Sanpatchayapong, Jewellery
5) Aline Weyel, Graphic Design
Thesis
1) Sarah Kaaman, Graphic Design
2) Fleur Thio, designLAB
3) Liam Tickner, Photography
4) Charlotte ten Raa, TXT (Textile), will graduate in December
5) Mrova Zub, Dogtime ID-UM
download the jury report here