Admission
In order to study at the Rietveld Academie, you must at least have a HAVO (senior general secondary education) or MBO (senior secondary vocational education) diploma at level 4, or equivalent qualifications, at level 4 of the EQF (European Qualifications Framework). You must also have sufficient artistic talent. During the admission procedure, the Rietveld Academie will determine whether you are suitable for the academy.
Application for bachelor 2017-2018
Select your choice in the menu on the left (DUTCH or INTERNATIONAL STUDENTS) and find all info on our application procedure for 2017-2018, which runs in 2 separate admission rounds (portfolio assessment/consultation, and entrance exam).
Orientation possibilities
For orientation and preparation we offer several possibilities, you can come to:
Or follow one of our preparatory courses: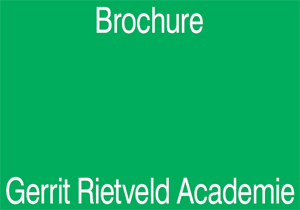 Meet our students
Beneath you can watch video's wherein students from several departments describe a day at the Rietveld