About
The Gerrit Rietveld Academie is a university of applied sciences for Fine Arts and Design. We offer one Bachelor's degree programme and four Master's programmes. From academic year 2014-2015 the Academie will be offering the Bachelor's degree programme Art & Design (formerly the two programmes Fine Arts and Design). This combination expresses our vision concerning art education in which autonomous and applied art form a single entity. This degree programme has twelve specialisations. All students follow a general first year (the Basicyear) and then choose one of these specialisations for in-depth study in the following three years. The Rietveld Academie also offers a part-time Bachelor's programme. The Basis Year of the part-time Bachelor's programme lasts two years and is followed by three years of in-depth study.
Once you have gained your Bachelor's degree (BA in Art & Design) you can go on to take a Master's Degree. Master's degree programmes are offered at the Sandberg Instituut. We currently offer four Master's degrees: Master of Fine Arts, Master of Design, Master of Applied Art and Master of Interior Design. The Sandberg Instituut also offers a varying number of temporary programmes in response to specific social or artistic issues. See also: sandberg.nl
We offer a range of preparatory programmes for students who wish to prepare for a degree programme at the Gerrit Rietveld Academie. In the Orientation Year, you spend 25 Saturday afternoons taking classes at the academy. The Orientation Year is sufficient to build up a good portfolio and to establish whether the Rietveld is right for you. Furthermore, we offer a preparatory programme in which you take lessons for 3 or 4 half-day sessions per week. Once you have successfully completed this Preparatory Year, you can enter the Basicyear, provided you have at least a HAVO/MBO4 qualification (Senior General Secondary Education/Senior Secondary Vocational Education Level 4).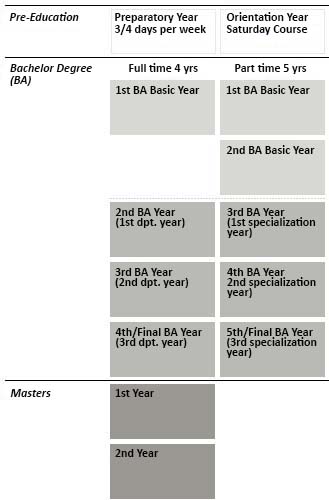 Philosophy
The Gerrit Rietveld Academie aims to support talented young people in such a way that they can operate independently in the field of visual arts or design. We want to enable them to sustain their work on their own and become sources of artistic inspiration in their area of specialisation.
The Rietveld Academie wants to optimally develop the capacities and creativity of the individual. We respect the individual and his freedom to develop a personal approach and develop his own future. We value research, experimentation and authorship, and attach great importance to maintaining an open attitude towards the environment while supporting involvement with others and society. We do this on the basis of our own individual vision of what art education should be.
The Rietveld Academie is an international academy. With 70% of our students coming from outside the Netherlands and representing more than 60 countries, we reflect the character of the world of arts & culture today. We regard the bringing together of different cultures in our academy as a strength, challenging students and lecturers to take different perspectives.