Dutchculture | Transartists introduction + portfolio talks
by curators, artists or artists-in-residence organizers
20 + 21 MAY INVITATION TO ALL RIETVELD ALUMNI + STUDENTS
You are cordially invited to join the introduction on the artists-in-residence opportunities and portfolio talks for students and alumni organized by DutchCulture | TransArtists, Gerrit Rietveld Academie and the Sandberg Instituut.

Please let us know if you want to attend the portfolio talks before the 18th of May, with a preference for a date and time. Send an email to Bojana Panevska B.Panevska@dutchculture.nl


COST = FREE
MAY 20
at Gerrit Rietveld Academie,
(room 110 Rietveld building)
10am - 1pm introduction
2pm - 6pm portfolio talks (45 minutes)
by Bojana Panevska


MAY 21
at DutchCulture | TransArtists, Herengracht 474
11am - 5pm portfolio talks (45 minutes) by

Sofie Deederen – initiator and director of the Print Art Centre and [Residencies Frans Masereel Centrum])(http://fransmasereelcentrum.be/nl/)

Valentina Desideri - co-organizes Performing Arts Forum Pa-f, in St Erme, (FR)

Nico Feragnoli and Clara Pallí Monguilod 1646's Residency offers artists & curators the possibility to stay and work/research at 1646 for a period of up to two months.

Michel van Dartel is curator at V2, where he coordinates public events and is involved in a variety of artistic R&D projects.


DutchCulture | TransArtists
is the platform stimulating and strengthening artists' mobility in the Netherlands and internationally. We combine and share expertise, and we offer tools and services on artist-in-residence programs and related issues. The online platform transartists.org offers more than 1500 residencies in its database. The field of artist-in-residence (AiR) places from around the world is in state of constant flux, therefore the focus of the workshop will be on recognizing and articulating these latest trends.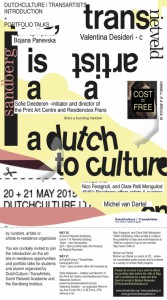 BIO Nico Feragnoli and Clara Pallí Monguilod