The graduations 2012
Gerrit Rietveld Academie
July 4-8 2012
Opening by photo detective Hans Aarsman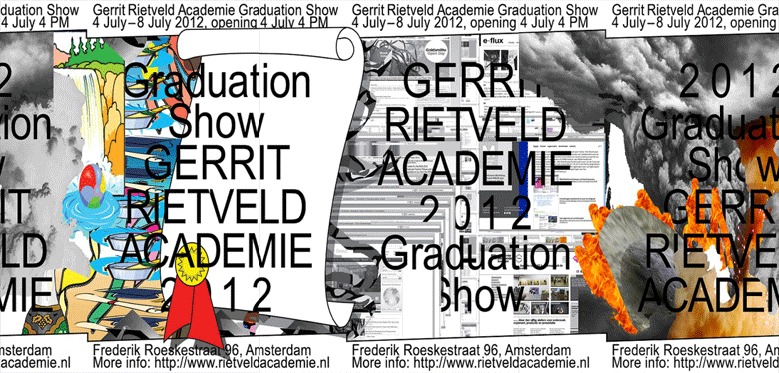 On Wednesday July 4th at 4pm photodetective Hans Aarsman openend the Graduation Show 2012 of the Gerrit Rietveld Academie.
Rietveld's Graduation Show is the moment in the year when the youngest generation artists and designers presents itself to the public. Almost 200 students from Architectural Design, Fine Arts, Audiovisual, Fashion, TxT(Textile), Ceramics, Glass, designLAB, Image&Language, Jewelry, Dogtime, Graphic Design and Photography exhibit their works.
The online catalogue can be found here:
Photography:  Leonie Linotte, Dagmar van Wersch, Abel Minnee en Taro Leenaerts


GRA Awards
On Saturday July 7th the GRA AWARDS were presented in the categories 'Fine Arts', ' Design' and ' Best Thesis'.
With this award the academy wants to financially support upcoming artists and designers to start their own practice. The winners also can make use of the workspace at Tweede Nassaustraat (GRA Awards Residency) for a period of time.
Each year an exhibition will be organised for winners and nominees. This year the exhibition was called [S]elected and could be visited at Castrum Peregrini.
Jurymembers of this years GRA Awards:
Hansje van Halem, graphic designer    
Xander Karskens, curator De Hallen    
Ronald Rietveld, landscape architect    
Barbara Visser, artist    



The price for best Thesis is coordinated by the Lectoraat Art & Public Space of the Gerrit Rietveld Academie.
The jurymembers:
Sven Lütticken, teacher modern Art, Vrije Universiteit
Saskia van der Kroef, managing editor Metropolis M     
Jeroen Boomgaard, Lector Art and Public Space   


catalogus Selected
Winners GRA Awards 2012 are:
In the category of Fine Arts:
In the category of Design:
In the Category Best Thesis: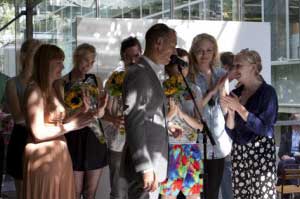 Nominees of the GRA Awards 2012:
In the category of Fine Arts:
In the category of Design
In the category Thesis